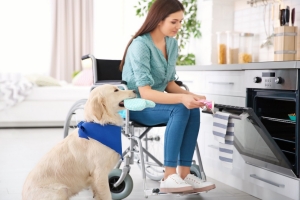 Support and Service Animals
Most of the properties managed by Cox Realty are pet free. This means that the property owner, neighborhood, or HOA, has decided to restrict animals. It could also be that a neighboring unit has an allergy to animal dander.
Cox Realty fully supports the principles of Fair Housing and is therefore in full compliance with all Utah laws as well as Federal laws and guidelines, including the Americans with Disability Act, Section 504 of the Rehabilitation Act of 1973, and the Fair Housing Act regarding reasonable accommodation requests for both service and support animals, including emotional support animals.
The agent that you will be working with for your housing needs is not a lawyer. As a result, we use a 3rd party legal review team that handles the reasonable accommodation request. This HIPPA compliant form will ensure that the request meets HUD's Fair Housing Act guidelines as well as Utah state law.
To ensure compliance with the Americans with Disability Act, Section 504 of the Rehabilitation Act of 1973, and the Fair Housing Act if you are seeking a Reasonable Accommodation under the law for a service or support animal please fill out an Assistance Animal request at https://Cox.petscreening.com. There is no cost ($0) to you to submit an accommodation request. This accommodation request will be reviewed a third-party legal review team.
You will not be asked to, nor do you have to, disclose the specific nature of the disability to which you are requesting a Reasonable Accommodation request.
Under Utah Code Section 62A-6b-104 your service or support animal can not be a danger or nuisance to others. This includes biting others as well as excessive barking.
Please be aware that in the State of Utah it is a Class C misdemeanor to falsely misrepresent that an animal is a service or support animal.
Once the Reasonable Accommodation Request and been reviewed and approved by the third-party legal review team Cox Realty will send a Lease Addendum (to an existing tenant) or a New Lease with Addendum (to a new tenant). You may download a sample of our Service and Support Animal addendum, however please do not fill this out and send back to us. Once approved we will generate on our side and send to you.
Cox Realty will not charge an additional or larger security deposit due to a service or support animal, however you will be charged to repair damage caused by a service animal or a support animal.
Additional beneficial reading: